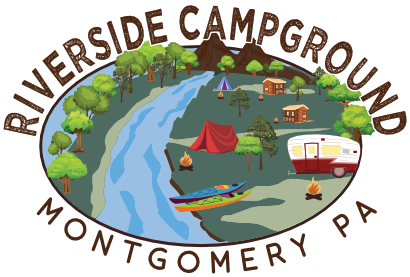 Welcome to Riverside Campground. Open Year Round.
Riverside Campground is located on the beautiful Susquehanna River, 9 miles south of Williamsport (on the edge of Montgomery Borough). With just a short walk to town, you can visit the local shops, meet some of the merchants and pick up something you may need to continue your trip. A Pennsylvania fish and boat launch ramp is nearby, and a large community park is next door. It includes dhildren's playgrounds, a skateboard park, soccer field, a large pavilion availalbe for special events, plus 200 more feet of lovely Susquehanna Riverfront.
The Campground is open year round, with full service sites available. Riverside Campground has 135 sites, all on level ground for your cconvenience and there are rustic tenting sites near a stream. Riverfront sites are 30 amp service with no sewer. all other sites are full service, with 30 or 50 amp electric service. Cable is provided for free on all sites, and WIFI is available. We also have a laundrymat with 12 commercial washers and 10 large dryers for your convenience. The Campground also has a 20' x 50' swimming pool - open from Memorial Day to Labor day to make your stay even more enjoyable.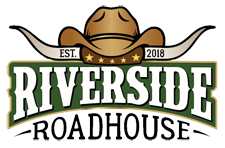 Riverside Roadhouse is located on the property and is open year round. We have a wide variety of legal beverages and great bar/grill food. Check out the Riverside Roadhouse Facebook Page for our specials and a schedule of DJs and live bands on the weekends!
Sundays
Bone-in & Boneless Wing Specials; BINGO on the Deck
Mondays
Mexican Cuisine Features, Corona Drink Specials and Open Jam Session with the Tickles
Tuesdays
Italian Cuisine Features
Wednesdays
Cook's Choice & Poker Night
Thursdays
Bone-in & Boneless Wing Specials
Karaoke the 1st and 3rd Thursdays of the month from 9:00 PM til 1:00 AM
Fridays
Seafood Specials including Beer Battered Fish & Shrimp and Grilled Fish; Build a Fairy Garden on the Deck;
Scavenger Hunt; Open Mic Night w/ The Tickles at 7:00 PM
Saturdays
USDA Prime Angus Beef Steak Specials from 5:00 PM til 10:00 PM
May 9th
Annual Chili Cookoff to Benefit Summer Alive Program from Noon til 5:00PM.
Our Amenities & Facilities
For Your Enjoyment:
Riverside Roadhouse on property
Covered Deck behind restaurant
Electric, Water & Sewer hookups
Full Service 20 amp, 30 amp and 50 amp sites
Wi-Fi available through a vendor
Free Cable TV on all sites
5 Camping Cabins and 2 Full Service Cabins
50' x 20' Swimming Pool
Covered Pavilion by Pool
Bath House with Hot Showers
Picnic Tables
Honey Wagon Service
Dump Station
Firewood (Please don't bring wood)
Fire Rings
Camping Supplies
Ice Cream
LP Gas
Gem Mine
Laundromat
Ice
Batting Cages
Pets under control
Banana Bikes
Covered Dish Socials
Fishing & Boating
Volleyball
Horseshoes
Grass Child's Play Area