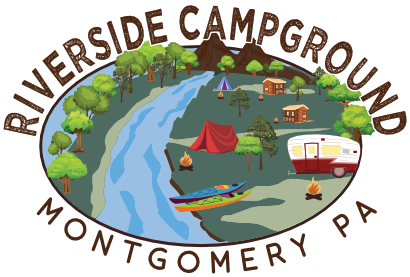 Site Map & Rules
Click here to download or view this map in Adobe PDF format.
Rules at Riverside Campground
We have established the following guidelines to help ensure your safety and enjoyment while in our park, and to ensure the same to our other guests. Those who choose not to observe these guidelines can be asked to leave without any form of refund. Regular check-in time is 3:00 PM, check-out time is 2:00 PM.
Speed Limit is 5 MPH for the entire campground. Please watch for children!
Quiet Time is 10:00 PM until 8:00 AM daily. No loud gatherings or parties. Please be considerate of your neighbors.
Camp Fires must be in the rings provided. Never leave a fire unattended and extinguish before turning in for the night or leaving the campground.
Pets are permitted at the sites, but not in any cabins. Dogs must be kept on a leash at all times. Please clean up after your pet.
Swimming Pool is open from 10:00 AM until dark. There is no lifeguard on duty. All children (14 and under) must be accompanied by an adult (18 years or older). No glass, pets or smoking allowed in pool area. Please enjoy snacks/drinks in pavilion beside the pool to help keep the pool area clean.
Firearms & Fireworks are prohibited in the campground. This includes all types of guns, BB guns, paintball guns, etc. Aerial fireworks are not permitted.
Dump Station is free to registered campers. There is an $10.00 fee for non-registered campers.
Propane tanks can be filled on site, if you choose. Prices posted in office. No outside delivery of propane or tanks larger than 100 lbs permitted.
Water – washing of cars and RVs is prohibited.
Trash will be collected in the morning when left tied at the edge of your site. Please do not leave trash out overnight. Garbage cans/truck available for self-disposal at side of restaurant.
Children are not permitted in the restaurant/bar or on the deck after 10:00 PM. They must have a guardian (25 years or older) with them to be in the restaurant/bar at other times.
Recreational Vehicles such as Golf Carts, are not permitted in the park. Exceptions may be made for disabilities per management discretion. Electric or motorized scooters, skateboards, bicycles, or other toys must obey the 5 MPH speed limit.
NOTE: Riverside Campground is not liable for any injuries that may occur on campground property. Riverside Campground is not liable for any acts of theft or vandalism, or for any damage caused by natural elements. All guests are responsible for carrying insurance coverage for your RV, vehicles, and their contents.
Above all, enjoy your stay at Riverside Campground!