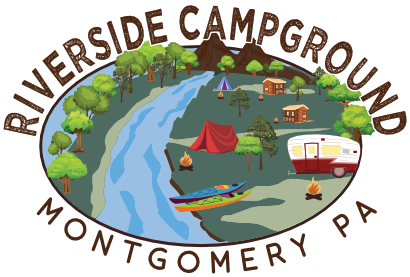 Site Map & Rules
Click here to download or view this map in Adobe PDF format.
Rules at Riverside Campground
Regular check-in time is 3:00PM, check-out time is 2:00PM.
Fires only allowed in Fire Rings. The Volunteer Fire Department gets a little testy when they have to leave the comfort of their homes to stamp out your campfire. Please do not move fire ring when finished (some campers burn wood with nails still in).
All leashes must be accompanied by a dog. The county sure has a mean dog catcher. Please use PET WALK area. No pets are to be left outside unattended. No dogs or pets allowed in any cabin. Do not bring a pet and expect to keep it in your vehicle while you are staying in a cabin. NO BARKING DOGS!
All kids under 14, take an adult to the pool with you. Your parents like to feel needed, and it gives them another chance to yell at you! SWIMMING IS AT YOUR OWN RISK, and you must be a registered guest. Please enjoy your food and drinks in the Pavilion, there will be less junk in the pool.
NO clotheslines. Your neighbor may want to enjoy the view! No car or RV washing, there is a Car Wash on Broad Street.
NO carpets, grass mats, rugs, etc. can be put down. It kills the grass.
In the morning between 8:00AM and 10:00AM we're gonna make the pool water taste funny, and vacuum it for diamonds, gold, and other good stuff we might find.
Your neighbor has to quit swimming by dark, and he should be quiet by 10:00PM so you can get some shut-eye.
We fill propane tanks in the park. Free free to take tanks elsewhere, but there will be NO companies delivering propane to sites in the park.
Please take advantage of recycling aluminum cans in the bins provided. Please try to be conservative with electrical use - so there is plenty to go around!
Dump Station is FREE to registered campers. There is a $10 fee for non-registered campers.
The management and the Park are not liable for loss by fire, flood, storm, accident, theft, or any other cause beyond our control.
Above all, enjoy your stay at Riverside Campground!